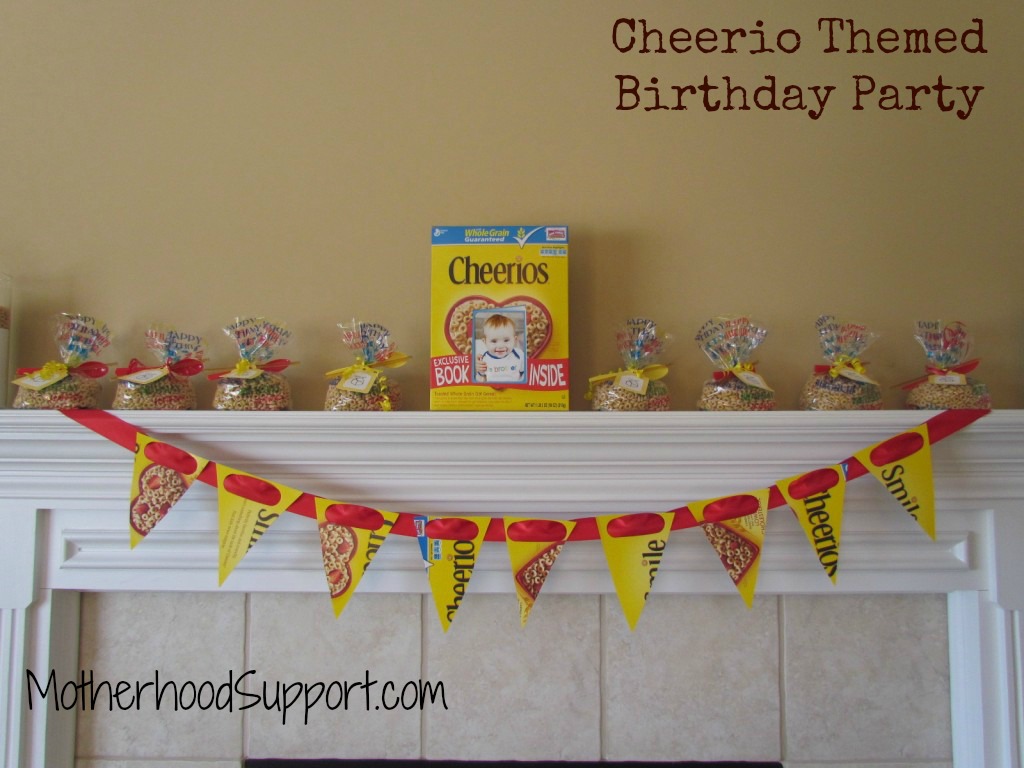 I had SO much fun planning for Grayson's 1st Birthday!! I actually had NO idea what I was going to do and wasn't really inspired until I saw this ADORABLE cheerio theme on the internet!! You can google it and get a TON of ideas!! I pulled most of what I did off other blogs and websites! If you know you are going to do this theme ahead of time you can have all your friends save their cheerio boxes for you. If not, they were the cheapest at the dollar store: $3 a box and they were offering $0.50 off a box at the time and I used coupons so it was a great dealio!!!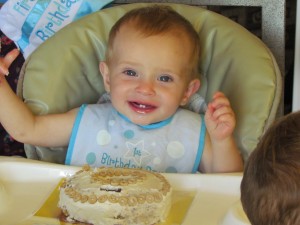 My little guy is ONE! I can't believe it! I borrowed a friends small cake pan and cut a hole out of the center and then lined the inside and outside circles with Cheerios. That way Grayson had his own little cake to dig into, although he didn't really get it so I ended up feeding it to him with a fork!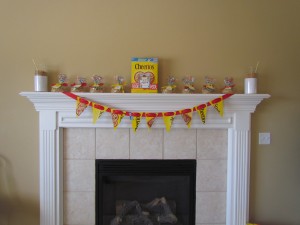 I cut out triangles from the cheerio boxes and punched two large holes in the top of the triangles. Then you can string the ribbon through and hang as a cute decoration! I also borrowed a cheerio box that a friend had with a frame cut out (from a book that came with the box) and her hubby actually had the idea to use it as a pic frame! I also used some of the party favors as decor, as you can see below.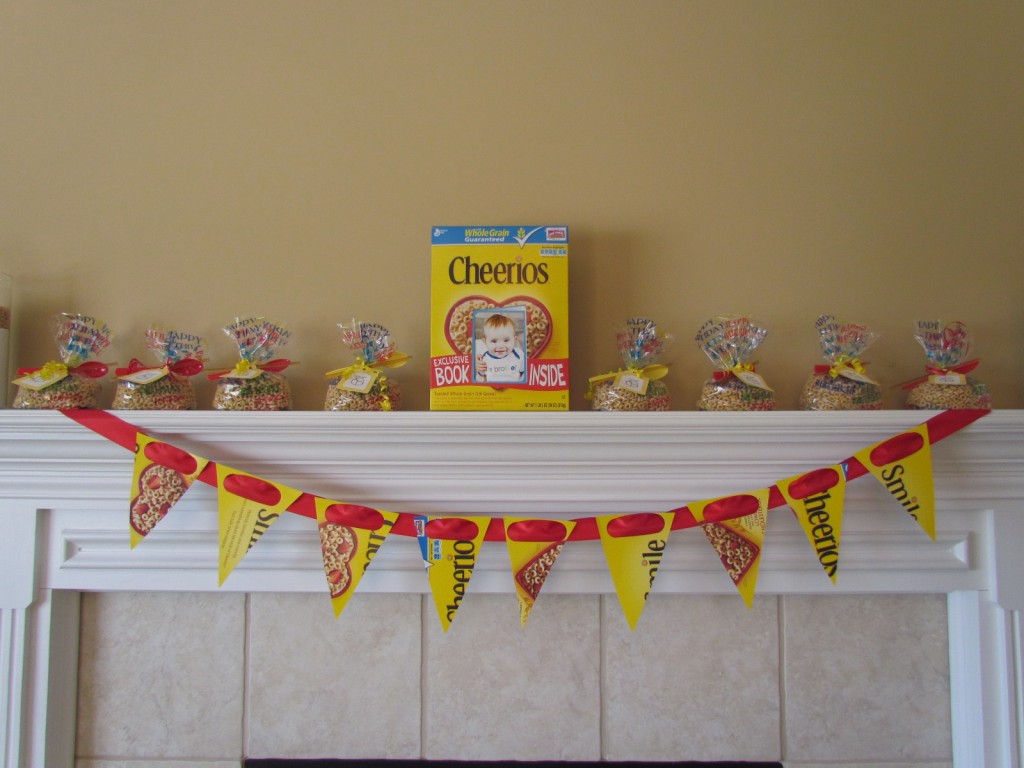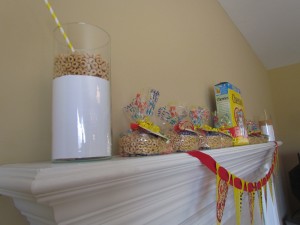 I LOVED the idea of the big vase with "milk" and Cheerios! I have a ton of vases from my wedding and I lined the inside with white printer paper. Taped the edges, stuffed some plastic bags into the center and then filled with Cheerios. Kim had these cute old-fashioned paper straws that I used as well!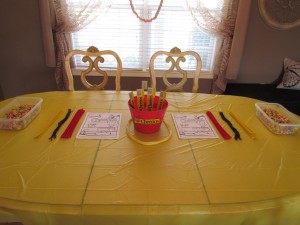 I had a little craft area set up for the kids: tablecloth ($1 at the dollar store), Red bin ($1 dollar store) and I filled that with crayons and printed off Cheerio coloring sheets. I got pipe cleaners and yarn so the kiddos could make necklaces, animals, pretty much whatever they wanted. I saw a great idea of dying Cheerios, BUT I didn't want to spend the time doing that AND it is hard to string Cheerios because they are so small. I cheated with some fruit loops and they worked just the same :)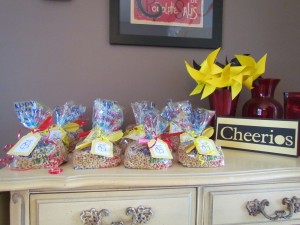 I had found some ideas of goodie bags for the kids and went off that. I bought the cello bags at where else, but the dollar store (!), filled with Cheerios, tied up a spoon and honey stick and added this ADORABLE tag from Etsy store, Chubby Cheeks by Sharon. She even sells an entire Cheerio theme and will customize based off your needs! Who doesn't love all the work being done for you?!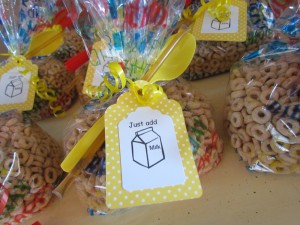 I used Cheerios and the boxes to decorate anything and wherever I could :)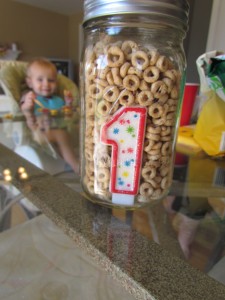 This was fun! Take the microwaveable chocolate, melt it, dip a spoon in it and then cover with Cheerios. Kim helped me with these and had the great idea of tying a ribbon around them (which dressed them up a bit) and she thought to laminate the Cheerio box front which I used to lay them on.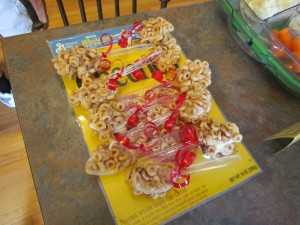 I also did Cheerio bars instead of Rice Crispie Treats. I added some of the melted white chocolate and it made ALL the difference. They were YUMMY and SO easy to make!
I also made trail mix with Cheerios and had bagels (big for the adults and minis for the kids) that was supposed to represent Cheerios :) You can find a TON of Cheerio recipes on their website.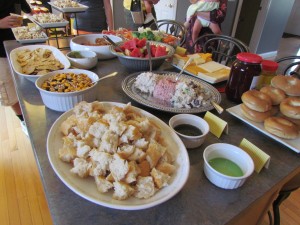 My mom bought me this cool baking set where you can make any letter or number so I made a 1 and lined with Cheerios. Easy peasy.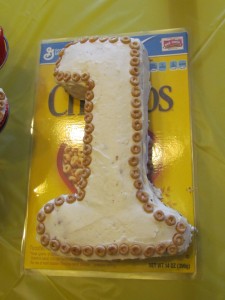 This was a pinterest idea of course! I used blocks we had, laid him down (which was a little tricky because he tried to keep rolling over) and then just ordered prints from Costco. You can add any border you want to the pic for free and it ended up costing me only $2.50! Can't beat that!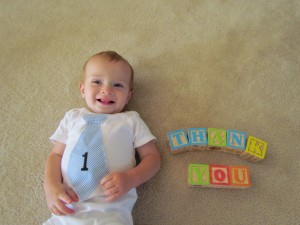 Here are the websites I got all my ideas from:
Overall it was a great party. Cody wasn't completely himself because of his brother having all the attention and although I didn't really think that would affect him, I have learned my lesson and will keep that in mind for all birthday parties going forward for each of the boys. It is hard to have a day dedicated to someone other than you so it is something to keep in mind for all those siblings out there!! I still can't believe Grayson is ONE! I feel like I just brought him home from the hospital! It has been a really fast first year and Grayson has been such an amazing addition to our family. I actually can't imagine it without him at this point and look forward to the many years to come :)