Most days it is hard for me to believe that I have two kids. I look around and think… when did this happen?! Now I am in REAL shock because my little baby boy is now ONE!!!! I just cannot believe a year has come and gone!
When I first found out I was preggers with baby G, I was SO excited, but in the back of my mind I wondered if I would really be able to love someone like I did my Cody bear. I pretty much worried about this until he was here. The moment I held him in my arms, all that anxiety washed away. I knew, in that moment, that I loved him as much as I did Cody and how amazing is that!!? God really did something special when he allowed us to open our hearts to multiple loves like that :)
This last year has been pretty crazy and amazing all at once. I now have two boys, brothers, and our family dynamic has changed and shifted. Things have been so much easier in regards to taking care of a newborn the second time around and I am SO much more relaxed which has allowed me to really enjoy having a baby!
Grayson really is an adorable kid and actually never really cried for the first nine months he was here! Now, he definitely knows how to assert his opinion and is not shy about it. He likes to be cuddled for just a second and then he pushes you away so that he can do his own thing. He loves following his brother around and has to try whatever it is that his brother does! He has a really cute sense of humor and really gets when things are funny. He LOVES books. His reaction to each page gets you excited about what is going to happen next. He is now SLOWLY walking around furniture and climbing up the stairs so mama really gets no rest :)
All in all, it has been a great year. It is very challenging having two kids, mostly because I feel like it is harder to juggle everything. BUT, it is SO worth it! A year has come and gone and I am looking forward to the next year and all the new milestones it will bring.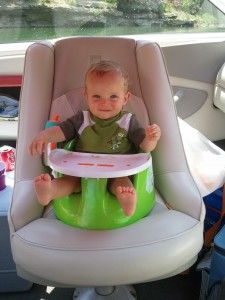 Love you baby Grayson! So grateful for you coming into our lives, stealing our hearts and changing our family forever!! Happy Birthday little man!
You may also like: