Lots going on that I wanted to share!!!
Crafts: My friend, Jenny, is such a crafty mama and I LOVE getting ideas from her because then I don't have to try to think of them myself :) This one is super easy and SO cute for celebrating birthdays!!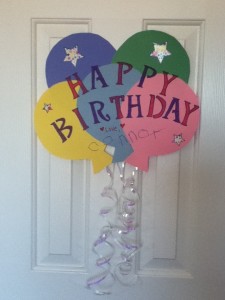 Instructions per mama Jenny: Take a piece of construction paper & fold it in half, but not enough to crease it. Cut it like you would a heart, but don't start cutting down for the v shape of a heart. Then at the bottom, cut the shape of a knot (see above).  Then trace it on another piece & take a few more sheets with it & cut them all at once. Lay them out how you want & glue. Take curling ribbon & tape to the back of each "knot". You can use stencils to trace the letters & then color them in. Easy peasy!!
West Chester Academy of Music and Dance:
We had SO much fun this past Sunday at the West Chester Academy of Music and Dance for their customer appreciation day. Everything was FREE!!!! They had train rides, bouncers, face painting, balloon animals, paint projects, cotton candy, snow cones, popcorn, hot dogs, drinks, live music and lots of instruments to show the kids! It was WONDERFUL! The kids and I LOVE going to music class here because they make it so much fun for the whole family, regardless of age!! Your first class is always free so it is a no brainer…. go check it out! They really take care of you there :)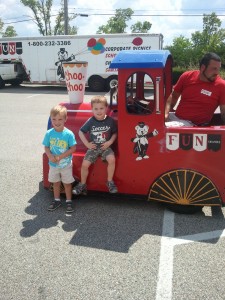 How cute are the boys?!! Having a blast on the train!
First freezer meal workshop was a SUCCESS!!!
Kim and I have been SO passionate about starting these freezer meal workshops since the day we learned about them. We are all about bringing families back to the dinner table with healthy, delicious meals and with the Wildtree FMW we can do just that!!! Our first one was a success and all the mamas were stoked to be going home with 10 gourmet meals to stock their freezer!!! One of them text me yesterday and said that the first meal she tried was the best meal she has made EVER!!! Not too bad :) We already have a great group signed up for September so be sure to put your order in by the end of the month if you want to join!!
September Meals:
Bangkok Chicken Satay w/Thai Sesame Sun Butter Dipping Sauce
Sesame Fusion Chicken
Fajita Pulled Pork
Italian Herb Crusted Pork Chops
Hungarian Beef Goulash
Asian Flank Steak
Spicy Thai Sun Butter Chicken
Zesty Citrus Chicken
Crockpot Swiss Steak
Spicy Green Chicken Burritos
Email us at jennieandkim@gmail.com for more details!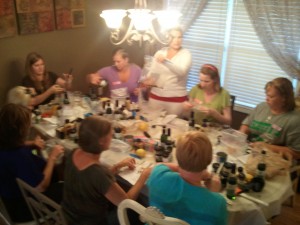 It doesn't get much better than this! Making 10 delicious, healthy meals for your fam, while getting together with your girlfriends for some ME time! Now that is mama multitasking at its BEST!!
What have you had going on this week? Do share! :)