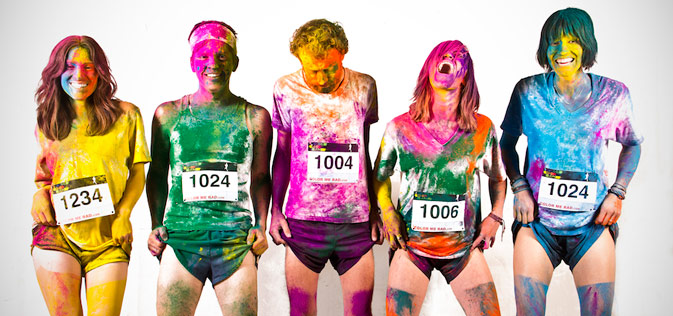 You'll start off with a shirt as pure and white as your grandpa's dentures and you'll soak up enough color while running to change your skin tone forever.  You'll wind up looking like a pack of skittles – just make sure not to "taste the rainbow."
How it works:
Start out as clean as a newborn babe, and throughout the run, you'll coat your chaffing thighs with blue, green, pink, purple, and yellow until your face, shirt, and body come out silkscreened like a tie-dyed hippy on the other side.
Each section of the run adds a new explosion of color to your clean, painter's palate until you cross the finish line into a final blitzkrieg of color.
What is the "color" in Color Me Rad?
You're probably asking yourselves, "Is this really color being thrown at us or are the rainbows we're seeing just God's signal that it'll never flood again?"
Well I'm glad you asked.  This isn't just smoke and mirrors.  This is non-toxic, non-rash-inducing, Kroger branded, colored corn-starch.  Subsidized by the government and processed in the good ol' US of A, these blasts of starch will change your color, and your demeanor, but never your level of wellness.
Surviving Motherhood is offering 4 FREE ENTRIES to the 5K Race taking place on July 21, 2012 in Cincinnati!! Jennie will be running so be sure to leave us a comment and the first four people will WIN an entry! For anyone who misses out on getting a free entry don't worry, we have you covered with a 20% OFF Discount to get registered! Just enter promo code: SURVIVINGMOTHERHOOD20 for your 20% OFF! But hurry – registration is selling out quickly!! Get registered at: www.colormerad.com
You may also like: