I got this A LOT with Cody…. We swaddled him from the minute he was born until almost 4-5 months old (I actually don't remember exactly when we stopped) and he LOVED it. HOWEVER, a lot of my family and friends would question this "barbaric" practice called swaddling because they felt like babies should have their hands and arm free. I mean, you think that I am the mom and with this child 24-7 so I would know if this is something my child would like, but NO! I was constantly asked, "Why do you wrap him up like a mummy?"
Although swaddling looks restrictive, it is exactly what babies need:
Medical research showing the incredible efficacy of PROPER swaddling has been done using a snugly wrapped blanket with arms down at-the-sides.
Babies are not coordinated enough to self-soothe (ie. suck hands) reliably until 14-weeks.    Swaddling is a substitute during this time to prevent awakening from the Moro Reflex.
PROPER swaddling has been shown in clinical studies to calm a fussy, colicky baby while helping baby sleep safer, netter, deeper and longer.
PROPER swaddling has been shown in clinical studies to reduce SIDS by as much as 30% even over back-sleeping babies without swaddling.             
 Although we swaddled Cody every time he slept, he was strong, as they all are, and would wiggle his little hands or arms right out of the swaddle. We tried a lot of different types of swaddles and he was able to get out of all of them. Many times this can wake the baby, which results in a very unhappy mama!!
Kim was raving about a swaddling blanket called "The Miracle Blanket" that her cousin used with her new baby and loved. I figured I would give it a try with Grayson. Let me tell you… I am AMAZED!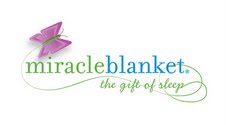 Miracle Blanket's unique, patented design combines all the aspects of swaddling that help a colicky, fussy baby sleep while eliminating everything that could be problematic or meaningless.  Using no Velcro, buttons, or adjustments that could harm or disturb baby, Miracle Blanket®mimics the comforts of the womb to calm a newborn almost immediately.  Not to be confused with a loose baby wrap or a simple sack … Miracle Blanket® is a TRUE swaddle design, based on clinical studies and science, guaranteed to work. The Miracle Blanket can be used from 0-4 months.
It took me a little bit of time to get use to how it worked (you can view their website for a video instruction), but once I got the hang of it, I fell in LOVE! It is the only swaddler I have used since. O.k. so there were a few times he peed through and I had to use one of my "old swaddlers" and he wriggled his way right out of them. I have been using The Miracle Blanket for 6 weeks now and he hasn't gotten out of it once!! The company that makes the Miracle Blanket actually guarantees the child won't get out or your money back! My kind of product!! Although it is a little bit more money than the other swaddlers on the market, I totally believe it is worth it! Grayson has been sleeping like a champ and I do think the swaddler has helped!
If you are a mom with a newborn or know someone who is pregnant or just had a baby, I would highly recommend getting The Miracle Blanket. It is one of a kind and, in my opinion, the BEST swaddler on the market (at least from all the ones I have tried). You can get The Miracle Blanket by following this link OR you can enter our giveaway for a chance to get one for FREE!!
If you would like to enter for your chance to win the award winning Miracle Blanket in the color of your choice:
If you'd like an extra entry…
Post about this giveaway to friends and/or family on your Facebook/Twitter/MySpace etc. Be sure to leave us a comment telling us what you've done so we can keep track of your entries!
The giveaway will expire at noon on Sunday Oct 2nd. The winner will picked randomly through random.org. Entries are limited to those residing in the US and Canada. Good Luck!

This is a must have for all newborns and would make a great shower gift for an expectant mama! If you just can't wait for the giveaway now is the BEST time to purchase a Miracle Blanket. They are offering their lowest price ever, $24.95, through Oct. 15th!!
*DISCLOSURE: WE WERE SENT THE PRODUCTS MENTIONED TO REVIEW AND TELL YOU ABOUT. ALL OUR OPINIONS ARE OUR OWN AND COMPLETELY HONEST. YOU CAN READ OUR FULL DISCLOSURE POLICY HERE.