I am a pretty organized person and I feel like I am losing myself in the chaos of moving!!! Although we have all the big rooms unpacked, things aren't as organized and functional as I would like. With being almost 7 months preggers I can't do everything I want to do…. UNFORTUNATELY! One thing I vowed to start this week was meal planning. Before the chaos of packing and moving I was pretty scheduled with our meals and had a menu for the week of what meals I was going to prepare. This fell by the way side over the last month and we were eating out ALOT! I was TIRED of eating out and decided to use my Green Bean and Wild Tree Deliveries for some inspiration. It has felt so good to get a menu together for the week… I know, it's the little things! SO here is my menu for the week… maybe it will give you some ideas :)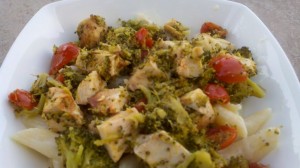 Monday: Chicken Alfredo with broccoli and tomatoes (I used the healthy alfredo from Wildtree) and just thought the combo sounded good together. IT WAS! I rarely go without a recipe so I was pretty proud of myself lol! Dessert: Strawberries & Chocolate Mousse Cake (leftovers from mother's day. I was inspired to make this from the Wildtree chocolate mousse and it was SOOO good!)
Tuesday: Sauerkraut, Sausage and potatoes- throw all in a crock pot and cook!
Wednesday: BLT's with sauteed veggies (inspired by the yummy tomatoes and other veggies I got with my GB delivery) Dessert: Mix in the pan chocolate cake (thanks Kim!!)
Thursday: Leftovers ( I will be gone in the eve so Steve will probably fix heat up the leftover chicken alfredo for them to eat!)
Friday: Steak with cucumber and tomato salad- cut up cucumbers and tomatoes and pour italian dressing over both in a bowl and let marinate overnight! (inspired by my green bean delivery- they also offer local meat!!)
Saturday: Out to eat! We have been wanting to go out and try the local restaurants around the new house :)
Sunday: Salmon Burgers and salad (inspired by Whole Foods daily deals. If you sign up for their newsletter you will get a daily deal. They were offering freshly made salmon burgers $4 off a pound!! YEAH BABY!)
SO that is that! I HIGHLY recommend trying Green Bean Delivery if you are in the area and check out our post to get the details on how you can get 50% off your first bin! If Wildtree is something you would like to try email us and we can get you more info! If you want to try out our our personal meal planner – we use this one FREE! You can print it directly from your computer and start your own meal planning today!